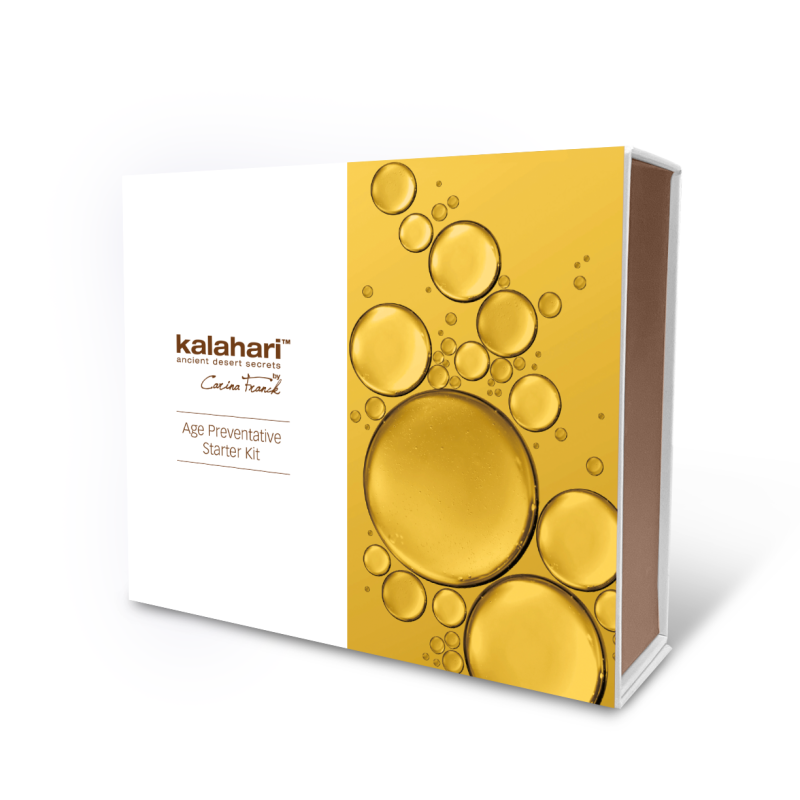 Age Preventative Kit
The Kalahari Age Preventative Starter Kit has everything you need to target the signs of premature ageing & effectively de-age the skin.
Our Phyto-ceutical formulations were developed with superior antioxidants, vitamins, peptides, hyaluronic acid and other effective ingredients, in order to accelerate the formation of collagen and elastin and to eliminate free radical formation. The product selection found in this kit will improve your skin texture leaving it smooth and radian.

*20ml Facial Cleanser
*20ml Gentle Cleansing Milk
*20ml Enzyme Face Buff
*25ml Toning Lotion
*20ml Nourishing Face & Neck Mask
*35ml Anti-ageing Gel
*20ml Essential Daily Moisturiser
*20ml Evening Moisturiser
*20ml SPF40
*3ml Marula Face Oil
*1x Eco Elastic Head band
Deze kit heb ik niet standaard op voorraad, heb je interesee? Stuur mij een whats-appje (0623478998) En ik bestel deze kit voor je.